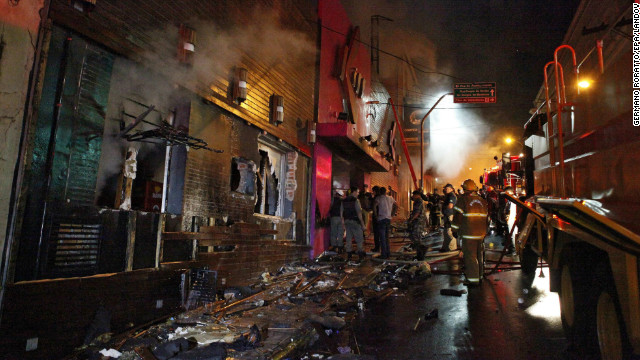 The blaze at the Kiss nightclub in Santa Maria killed at least 233 people, Brazilian Health Minister Alexandro Padilha told reporters. Many of them apparently died from smoke inhalation, state-run Agencia Brasil reported. Others were trampled in the rush for the exits, one security guard told CNN affiliate Band News.
More than 90 people were hospitalized, Padilha said, including 14 patients with severe burns.
About 2,000 people were inside the club when the fire broke out -- double the maximum capacity of 1,000, said Guido de Melo, a state fire official.
Investigators have received preliminary information that security guards stopped people from exiting the club, he told Globo TV.
"This overcrowding made it difficult for people to leave, and according to the information we have, the security guards kept people from leaving the building," he said.
The fire started "from out of nowhere" on a stage at the club and quickly spread to the ceiling, witness Jairo Vieira told Band News.
"People started running," survivor Luana Santos Silva told Globo TV. "I fell on the floor."
There was a pyrotechnics show going on inside the club when the fire started. Authorities stopped short of blaming it for the blaze, saying the cause was still under investigation.
Video from the scene showed firefighters shooting streams of water at the club and shirtless men trying to break down a wall with axes.
Smoke billowed outside the front of the building as the stench of fire filled the air, said Max Muller, who was riding by on his motorbike when he saw the blaze.